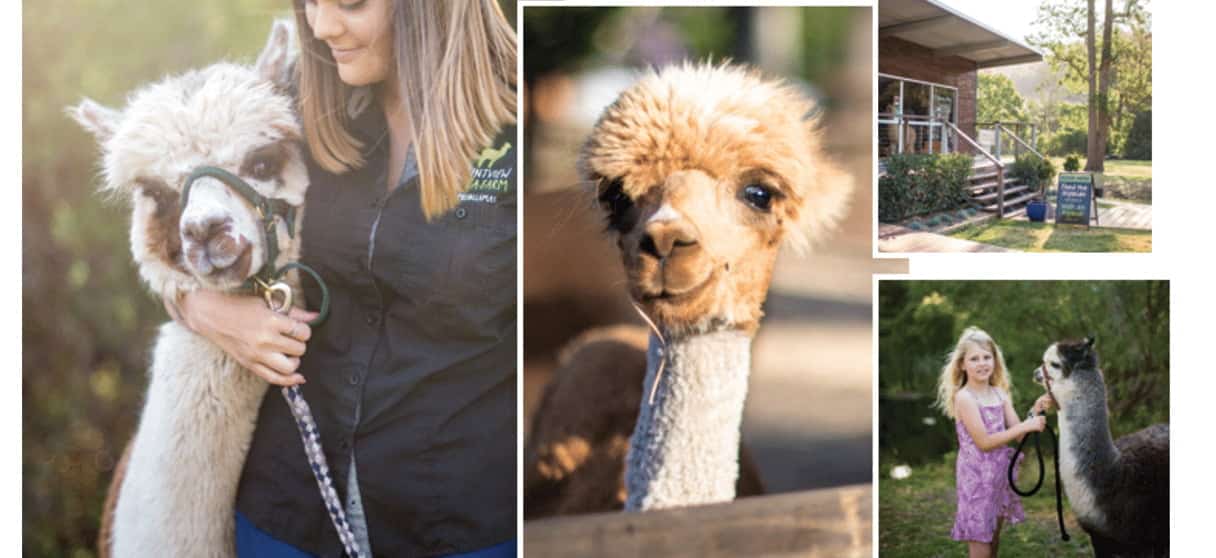 Mountview ALPACA FARM
Not surprisingly most people are familiarwith an Alpaca punch line - What did thefarmer say when he was invited on ashort-notice trip? Alpaca my bags!
What is surprising is how long these furry friends have beenworking along side families in both agriculture and tourism.The Alpaca Farm here in Canungra has been operating foraround a quarter of a century, and was purchased by ownersJen and Steve about 10 years ago. Originally located in theGreen Mountains section of Lamington National Park, notfar from O'Reilly's Rainforest Retreat.
After Cyclone Debbie hit the region in 2017, an opportunityarose to relocate the Alpaca Farm to the O'Reilly's CanungraValley Vineyards. A great decision made by default thebusiness now offers visitors a great experience, from thewinery and the restaurant to the cuddling and feeding ofalpacas.Steve also tells us the new program they haverecently embarked on which involves a community aspect.
"We regularly take alpacas to several local hospitals, including Beaudesert, Logan, Princess Alexandria and Royal Queensland Children's Hospital. The reaction of the hospital patients is what this program is really all about. Bringing moments of joy to otherwise difficult times for medical staff and patients alike."
Steve goes on to explain a few more additions that have come from the idea of Alpacas for therapy. "We have also recently purchased a 54 seat coach, dubbed "The No Probllama Bus" which is an extension of the therapy alpaca program. This allows us to bring groups of as many as 50 people at a time, from local aged care facilities to the farm for some fresh air and alpaca experiences. We are hoping to setup a Not for Profit Organisation in the next 12 months to help raise funds to expand the alpaca therapy program
and to help us reach more people who need to get out from their hospital beds."The No Probllama Bus" will also be available for Corporate groups, student groups or clubs
who are looking for an easy, fun and hassle free day out.
With Shania and Jordan, Steve and Jen have made Mountview Alpaca Farm more than just a tourist attraction, it's about creating amazing memories for your family and
friends. From their family to yours, you are guaranteed to leave with a smile on your dial.
Being that Mountview is located inside the grounds of O'Reilly's Canungra Valley Vineyards, the business is able to offer a delightful mix of experiences, perfectly matched for the entire family. A light hearted getaway, a romantic day out or a picnic with the Alpacas for a family birthday or celebration.
A particular favourite has become the "Alpaca Proposal". Jen tell us "Many a prospective bride or groom have enlisted the help of Ed Sheeran (the alpaca) as their wingman to pop the question, who currently boasts a 100% success rate. How could anyone say no?" Entry to Mountview Alpaca Farm is free and the Alpaca giftshop has something for everybody, from socks and scarves to furry alpaca toys. Open 7 days.
To pre-book your Alpaca experience visit the
website www.mountviewfarm.com.au
852 Lamington National Park Rd,
Canungra, Queensland, Australia.